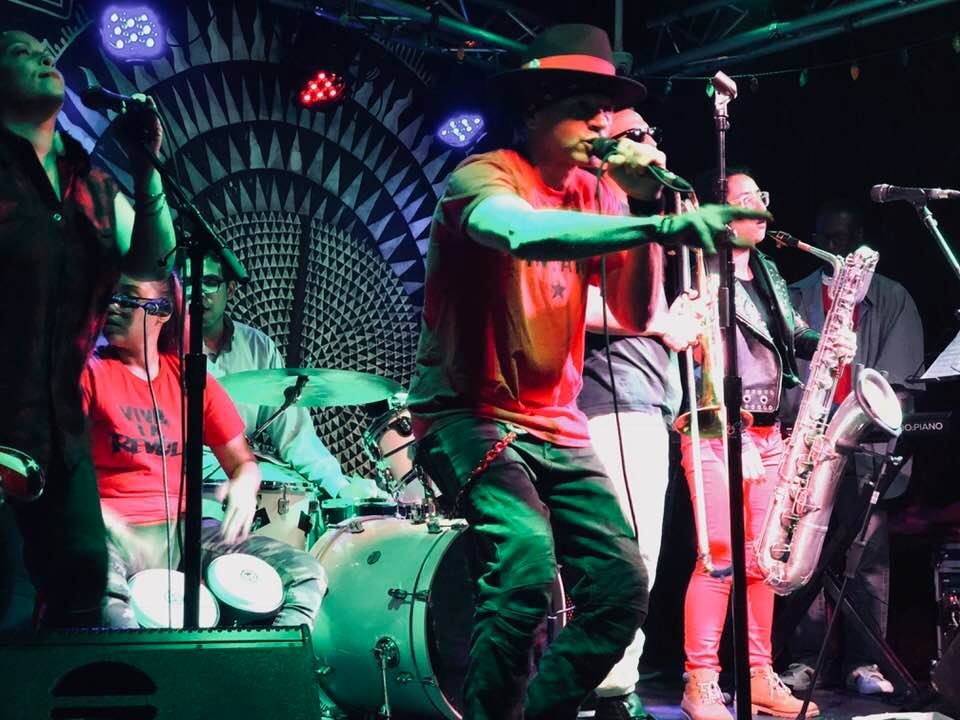 "A revolution without dancing is not a revolution worth having." - Emma Goldman
ABRAZOS ARMY makes art that arms the masses, culture that creates community and music to revolú to. Our members are sound salsaboteurs, rhythm rebels and street scholars who enervate, enlighten, enliven, elevate and edutain.
In addition to ABRAZOS ARMY's powerful and provocative musical performances, we also offer workshops, talks, lectures and readings that radicalize and rock the (political) party for your right to fight the powers that be!
Here is just some of what we offer:
CONCERTS:
ABRAZOS ARMY will perform empowering and provocative concert experiences that take music and culture to the next level, beyond borders, barriers and barricades. 
SOLO SHOWS:
ABRAZOS ARMY singer/emcee/poet, Prophet aka Not4prophet (with accompaniment by Weapons of Mas Percussion which features other members of ABRAZOS ARMY) interweaves personal stories and recollections of his life from Puerto Rico to New York City, with songs and raps on struggle, survival, salvation, and the Nuyorican experience.
READINGS:
Lead singer/emcee/poet of ABRAZOS ARMY, Prophet aka Not4prophet will perform poetry from his books Last of the Po'Ricans y Otros Afro-artifact, Mini-Manual for the Modern-Day Machetero: A Poetic Polemic, and ThirdRail FairyTale, with an optional dialogue session with the audience afterward.
WORKSHOPS:
ABRAZOS ARMY singer/emcee/poet, Prophet aka Not4Prophet, discusses, through song and dialogue, the art of writing revolutionary resistance rhymes and subversive songs, followed by a session where participants will write their own verses and rhymes which will be performed at the end of the session in an open mic hosted by Prophet.
LECTURES:
ABRAZOS ARMY singer/emcee/poet, Prophet aka Not4Prophet, conducts From Hollas to Hip Hop, where he discusses and performs the history of Musical forms from the African/Indigenous diaspora and their historical use as a tool/weapon of African/Indigenous anti-colonial/anti-imperial resistance.
All events/performances can be adapted and re-imagined.
Email abrazosalliance@gmail.com and book ABRAZOS ARMY today, for music performances, workshops, lectures, readings and other actions.